COSY PLACE TO STAY IN THE HEART OF KAUNAS
Kaunas Garden is an apart-hotel estsablished in 2018 with 10 hotel like rooms, shared kitchen and all needed facilities for comfortable stay. We are autonomous self-service hotel without reception - you will receive entrance codes day before your stay.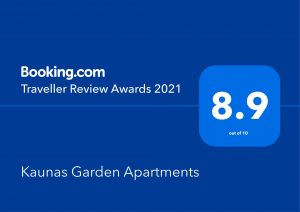 HOTEL LIKE ROOMS WITH SHARED KITCHEN
All needed facilities for comfortable stay
NO RECEPTION - 24/7 Check-In/Out
Our guest are free to use all shared equipment like iron, ironing board, clothes washing machine, dish washer, microwave oven, refrigerator, hair fan. We also provide luggage boxes for gues to leave their stuff pre-check-in or post-check-out. High-Speed WIFI is available and free for our guests.
Bigger room
20 m2 size room with private bathroom, Flat Screen TV (HBO), and a shared kitchen. Room No.: #4
Medium size room
16 m2 size rooms with private bathroom, Flat Screen TV (HBO), and a shared kitchen. Room No.: #1, #2, #5, #7
Smaller rooms
12 m2 size rooms with private bathroom, Flat Screen TV (HBO), and a shared kitchen. Room No.: #3, #6, #8, #9, #10